A Subscription Based Design Agency
Providing Senior-Level Design at Entry-Level Designer Price
Fed Up With Unreliable Freelancers or Over Priced Agencies?
Frustrated With The Lack of Quality in The Design You're Receiving?
Want to Spend Less Time Explaining Design Direction to The Designer?
As Your Creative Partner We'll Create
All The Design Assets You Need to Look Good in The Digital and Physical World
You've Tried The Rest, Now Try The Best
We have developed a unique ability to design effectively with limited resources and minimal direction. How did we hone this skill, you may wonder? By working with both the big dogs and small cats during our first ten years in the industry.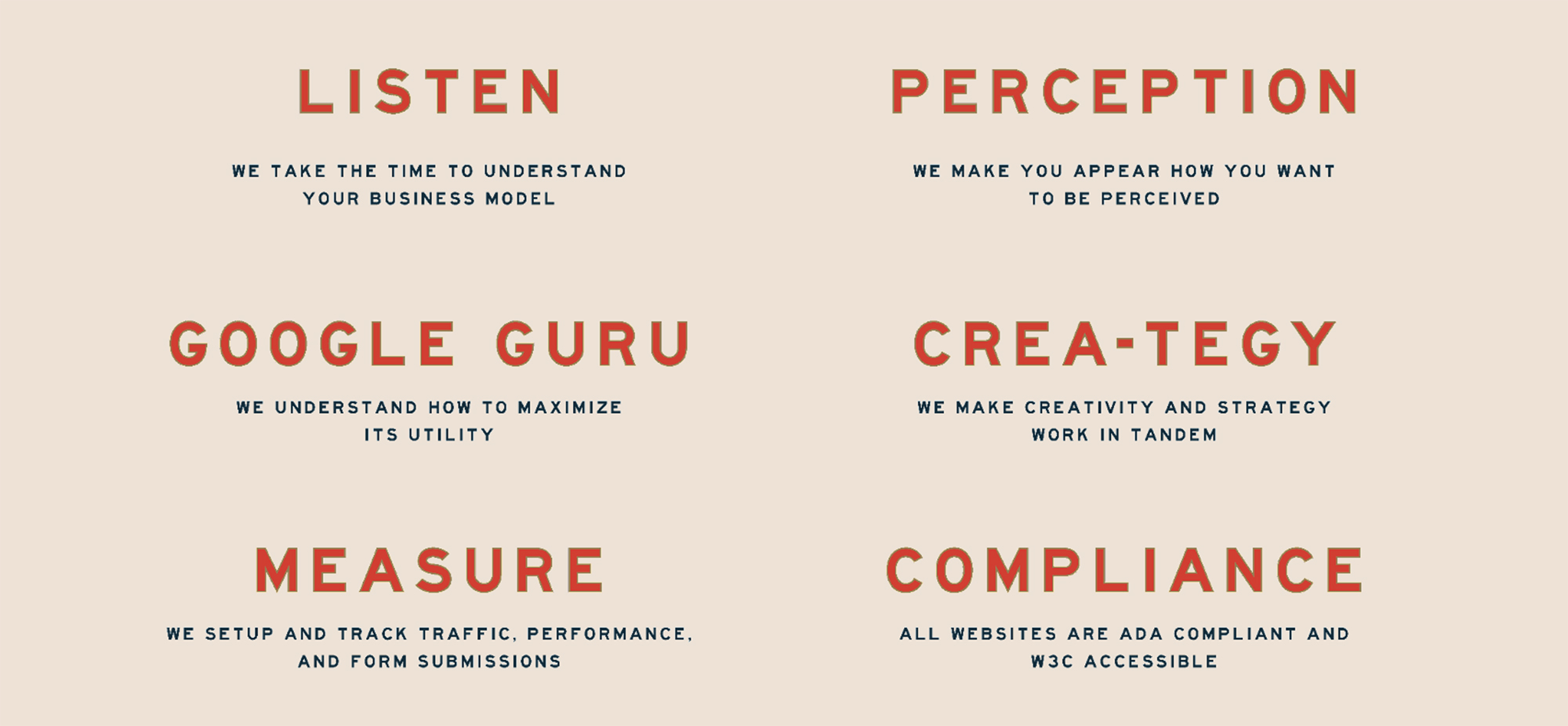 This is leftover copy/language from previous page...
Web Design
Light-weight, performance based websites that attract customers. Packed with essential features to assist in the growth of your business. No templates, no shortcuts. We create custom online solutions to take your business to the next level. 
Why A Website?
Collect Leads
Create Credibility
Promote Your USP
Show Up On Google
Inform Customers
Look Good Online
Sell Products
Integrate Marketing Efforts
What We Do
Website Design
Website Redesign
Industry Research
Custom Contact Forms
Landing Pages
Lead Gen
Mobile Responsive
User Friendly
Copywriting
Storytelling
Photo + Video
Hosting + Maintenance
Search Engine Optimization
Google Search Console
Google Analytics
What We Don't Do
App Creation
Email Marketing
Social Media Management
Marketing
Logos alone don't create emotional connections, visual narratives do. A unique identity paired with a thoughtful application of your brand is the foundation for any business. Our distinct creative process will differentiate you from the crowd, guaranteed.
Why Marketing?
Create Emotional Connections
Stay Top of Mind
Educate Customers
Create Engagement
What We Do
Content Creation
Print Collateral
Digital Collateral
Photography
Videography
Signage Design
Google Adwords
PPC Campaigns
eBrochures/eBooks
What We Don't Do
App Creation
Email Marketing
Social Media Marketing